Service Navigation
Materiality analysis
Materiality analysis
Process and material subjects
As part of our materiality analysis, we continuously identify and assess the expectations and requirements of relevant internal and external stakeholders. Regarding this, we surveyed several internal and external stakeholders in 2021. This process serves to determine the topics which are necessary for the understanding of the business performance, the business results, the situation of the company, as well as the impact of its activities on non-financial aspects. This enables us to identify opportunities and risks for our core business activities at an early stage and translate them into concrete fields of actions.
The results of the materiality assessment determine the scope of the non-financial statement in our annual report. In 2021, our materiality analysis is based on a 4-step approach which combines quantitative with qualitative analysis formats: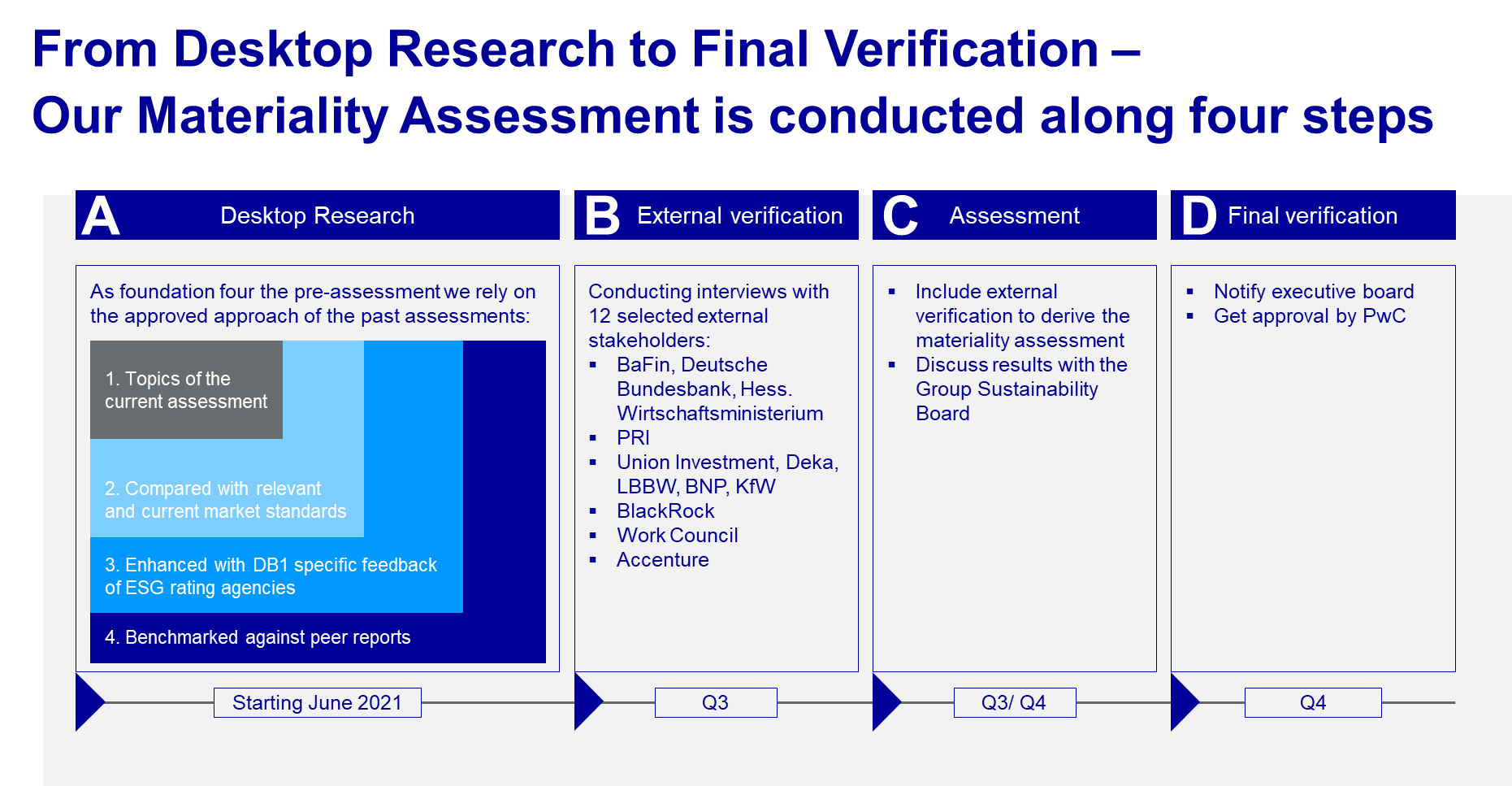 In order to narrow down and to cluster the topics for the interviews, we conducted a preliminary analysis. This was based on the approach used in previous years and includes four steps in total:
The basis of our preliminary analysis was formed from the identified topics of our past materiality analysis
Then, the preliminary analysis was compared to Deutsche Börse's relevant market standards and extended if necessary
Afterwards, feedback from our most important ESG rating agencies was incorporated, as well as
A comprehensive benchmarking of our peers was conducted.
The result was a shortlist with potentially relevant topics for Deutsche Börse. This shortlist formed the basis for the subsequent stakeholder interviews.
B) Verification of material topics through in-depth stakeholder interviews
As part of an extensive interview series with internal and external stakeholders, the topics on the shortlist were evaluated in terms of their materiality in the context of Deutsche Börse. The stakeholders interviewed included representatives from regulatory bodies, our investors, NGOs, and rating providers. The selection was made along our key stakeholder groups in accordance with our stakeholder management.
Appropriate guides were prepared for the interviews. Afterwards, in the interviews, the respective stakeholders were asked:
to rank the materiality of the shown ESG issues (for the stakeholders?)
to assess the impact of Deutsche Börse on these ESG topics and
to identify opportunities and risks from these topics
The result of the stakeholder interviews is an overview in which all topics on the shortlist were evaluated in the dimensions of stakeholder materiality and impact. The materiality analysis resulted in this evaluation of the queried topics.
In the next step the results from part A) and B) were externally validated. The external validation was subsequently also confirmed by our sustainability committee, the Group Sustainability Board.
In a last step the results were externally verified by our external auditor.
Based on the materiality analysis of its own business model, Deutsche Börse Group has identified the following ESG indicators as material for the Group's sustainability profile. The individual indicators can be mapped to five fields of actions: "Economic situation", "Customers and markets", "Employees", "Social environment" and "ESG ratings". All are measured against defined targets.
Additional Information