Service Navigation
Process and relevant areas of action
Process and relevant areas of action
Materiality analysis – the process
Over the reporting year 2018, our method to determine key areas for action was refined into a quantitative procedure. Based on the results obtained thus far, the conducted survey format meets both HGB and GRI standards. For the first time, we were able to survey all relevant stakeholder groups within one year, which in turn made it possible to draw concrete comparisons, including Deutsche Börse Group's opportunity and risk profile in terms of non-financial aspects. The aim was to increase the quality and comparability of the data and thus enhance the informative value of the results.  
In the 2018 survey, stakeholders had the opportunity to rate the issues identified in previous materiality analyses in terms of a) their significance for Deutsche Börse Group's business performance, b) the impact of Deutsche Börse Group's business activities on these aspects, and c) their significance for the respondents personally. Stakeholders were asked to rate these aspects on a scale of -5 to +5.The results were validated in 2019 through various tools and internal as well as external stakeholder exchange platforms:
Information from Deutsche Börse Group's committees and working groups, which are staffed with international capital market representatives.
Evaluations of customer satisfaction surveys, customer visits and Deutsche Börse Group innovation portal input
In-house analyses and assessments of trends and developments in the financial services industry (e.g. regulatory framework changes)
Findings from investor conferences, roadshows and meetings as well as from topics addressed in the Annual General Meeting
Feedback from staff meetings, staff events and review meetings, as well as from the 2019 staff surveys
Results from the two 2019 Group Sustainability Board meetings
Evaluation of internal management-level discussions on the strategic development of group-wide ESG management
Prioritisation of issues within the meetings of the Executive Board, the Supervisory Board and the respective individual Supervisory Board Committees
Participation in various national and international sustainability ratings and rankings
Client-side evaluation of Deutsche Börse Group's sustainability management
An internal revalidation of the previous areas for action was carried out in 2020, confirming the results from 2018. Compared to the previous survey, the only area for action with a materiality rated higher by the internal stakeholders was "Human Capital Development". The topic "taxes", by contrast, ranked lower in the analysis. Deutsche Börse Group is, however, aware of its responsibility in this regard and therefore voluntarily reports on its tax strategy and handling of tax legal issues.
Areas for action at Deutsche Börse Group
The key criterion in identifying relevant areas for action at Deutsche Börse Group is their materiality, both in terms of their influence on the company's business success and, conversely, the influence of Deutsche Börse Group's business activities on the respective field of action.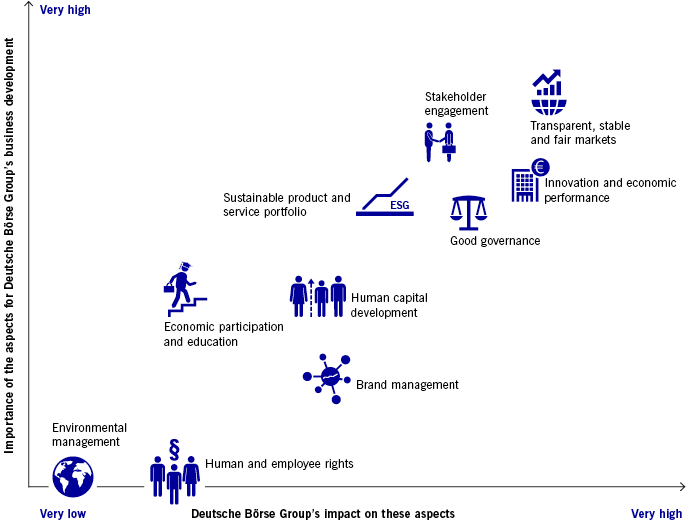 Additional Information