mittelstand
What drives the mittelstand?
Solutions and offerings of Deutsche Börse Group
The mittelstand, small and medium-sized enterprises (SMEs), is the main driver of the economy and employment, innovation and technology in Germany: according to the Bundesministerium für Wirtschaft und Energie (BMWi, German Federal Ministry of Economics and Energy),more than half of value added and almost 60 percent of all jobs are accounted for by the mittelstand.
"The mittelstand is the backbone of Germany's economy, family-run businesses are its core."
Angela Merkel, German Chancellor
Among the businesses that in many cases have existed for decades, that have a strong technological basis and that produce outstanding products there are many "hidden champions", i.e. global market leaders in niche areas. Thanks to well-filled order books they and small and medium-sized enterprises (SMEs) as a whole are doing brilliantly. So, is all well? Not quite – SMEs are currently facing major challenges.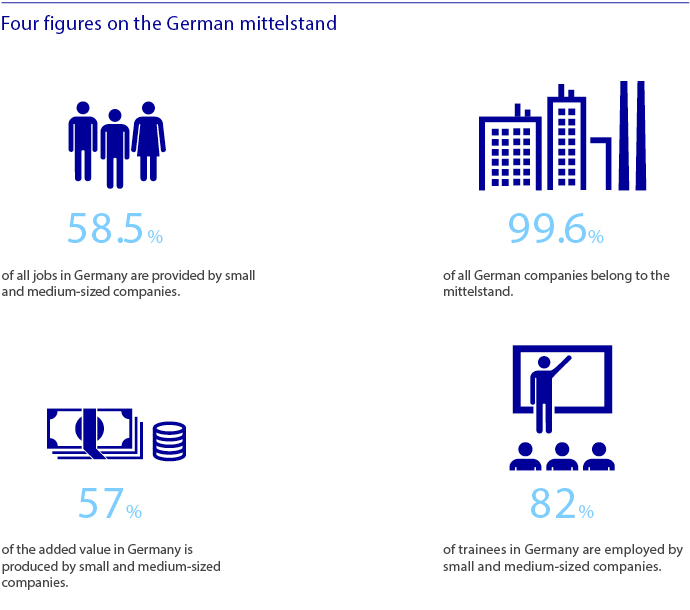 Digitalisation is changing business models
The digital change affects the economy worldwide. In particular, the associated high investments and short innovation cycles are posing challenges for many businesses. SMEs, too, are feeling the growing pressure from digitalisation. Technologies such as networked manufacturing, blockchain and big data are changing the traditional value chain and putting business models to the test. Furthermore, new competitors are pushing onto the market, and customer expectations are rising. One thing is clear for SMEs: only those who understand the needs of customers, both now and in the future, and are able to offer suitable products will be successful over the long term.
In these times, a willingness to make fundamental changes and the availability of financial resources are becoming success factors. The question is not whether but when SMEs will start their digitalisation. A lack of access to equity capital and well-developed networks is often a barrier to investment – unnecessarily so. Deutsche Börse Group is offering businesses of all sizes and all sectors access to the capital market. This means that it is also up to SMEs themselves to maintain and expand their competitiveness and leadership position.
SME financing via the stock market
The stock market is an important building block in a sustainable financing strategy. After all, one of our main tasks is to bring businesses and investors together. Established businesses are able to cover their financing requirement via the capital market, and we support young businesses with our expertise and strong network when it comes to sourcing venture capital. This means that businesses can find an ecosystem for growth that has the right offerings for every development phase.
For SMEs, in particular, financing via the capital market, i.e. an IPO or the issue of corporate bonds, can be an interesting option. They gain access to long-term capital sources and are able, in the wake of an IPO, to raise finance repeatedly through capital increases. What is more, a stock market listing brings with it a great deal of attention and thus increases the company's visibility. A listing is also an option for family-run businesses to prepare for the succession in corporate governance: company shares can be divested bit by bit while the family retains its influence. SMEs are thus able to ensure the viability of their company via the stock market.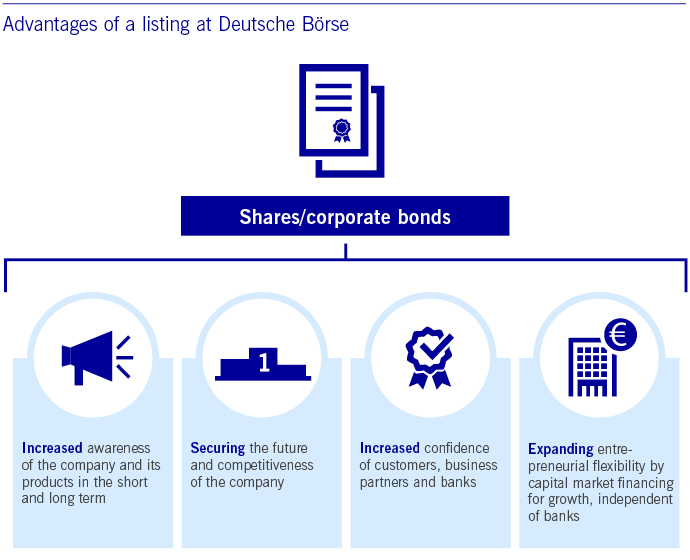 For small and medium-sized businesses, in particular, the Scale segment is available at Deutsche Börse Group.
Headquartered in Frankfurt/Main, Deutsche Börse Group is one of the largest exchange organisations worldwide. It operates markets that provide integrity, transparency and security for investors wishing to invest capital and for issuers wishing to raise capital. On these markets, institutional traders buy and sell shares, derivatives and other financial instruments in accordance with clear rules and under strict supervision.
Deutsche Börse Group is now more than just a trading venue or exchange – it is a provider of financial market infrastructure. Its products and services span the entire finance value chain – its business areas range from pre-IPO services and the admission of securities, through trading, clearing, settlement and custody of securities and other financial instruments to collateral management. It also offers IT services, indices and market data worldwide.
Additional Information