capital market union
A European Capital Markets Union is good for everyone
We support a common European single market
The liberal principles of the European Union have been securing our prosperity and our peace for many years. It is therefore in the interests of all people in Europe to safeguard and build on the many personal benefits the EU has to offer.
Thanks to the common Single Market...
3.6 million new jobs have been created since 1990, of which around 936,000 in Germany.
every employee enjoys at least four weeks' annual leave and a maximum working week of 48 hours.
every EU citizen can work where he or she wants since university degrees and apprenticeship diplomas are generally speaking mutually recognised.
roads are rehabilitated, fast internet access is provided and new daycare centres are built in all EU member states.
rigorous climate and environmental protection standards have been enshrined in all 28 member states.
there is greater equality of opportunity, e.g. thanks to the ERASMUS programme.
you can use one currency to pay in 19 EU member states.
holidays and the use of mobile phones within Europe are less expensive.
you can travel throughout Europe without having to show your passport.
real per capita GDP of the six founder countries of the single market, including the Federal Republic of Germany and the Netherlands, has more than trebled since 1957.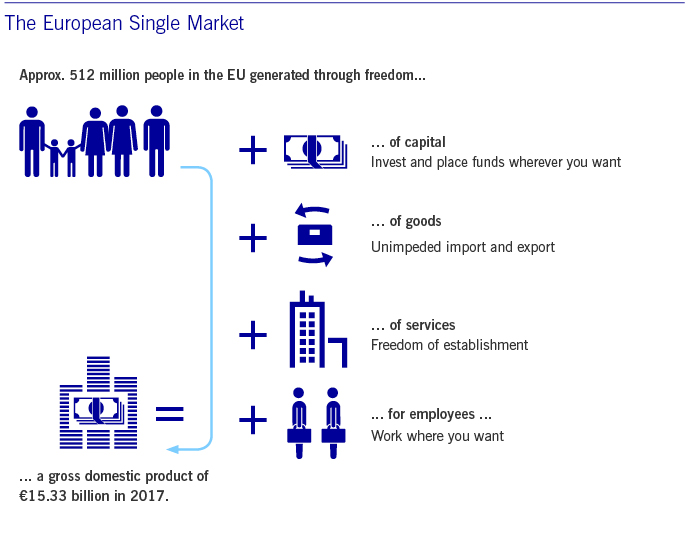 We want to safeguard and build on all these advantages. To achieve this – particularly in the light of Brexit – the European Union must remain strong and competitive in the future.
The European Commission is pushing for a Capital Markets Union
The Capital Markets Union is one of the most important initiatives put forward by the European Commission. Its main aim is to stimulate economic growth within the EU and to create jobs on the basis of stable and liquid capital markets. But there are also many other reasons in favour of such a union. It could prove a very effective solution for many of the challenges we are currently facing in Europe. Because of Brexit, there is now an even more urgent need to strengthen the capital markets within the EU-27 through attractive, stable and pan-European capital markets.
What benefits will a Capital Markets Union bring?
Capital markets are important for economic growth. Functioning capital markets contribute to financing the growth of start-ups. More intensive cross-border movements of capital would bring substantial benefits to the European economy. This is because capital would be more readily available across Europe: for example, to maintain and expand the infrastructure, to establish sustainable pension provision, for structural measures to reduce unemployment and to finance digitalisation. New investment opportunities could be tapped.
What will the Capital Markets Union bring for the financial market?
Above all, the Capital Markets Union will provide easier and more secure access to capital for growing businesses and the entire real economy in Europe. For example, it would ensure that savers have a greater choice of investment types and that businesses have better financing options.
And how does Deutsche Börse Group support
Europe and the Capital Markets Union?
Deutsche Börse Group is committed to an open, united, strong Europe as well as to political and economic integration to create a common market: we draw attention to these advantages, which have provided prosperity, peace and freedom in Europe for many decades – here are a few examples:
Deutsche Börse Group has supported the aims of the Capital Markets Union right from the start. And we will stay on it – for the Europe we share.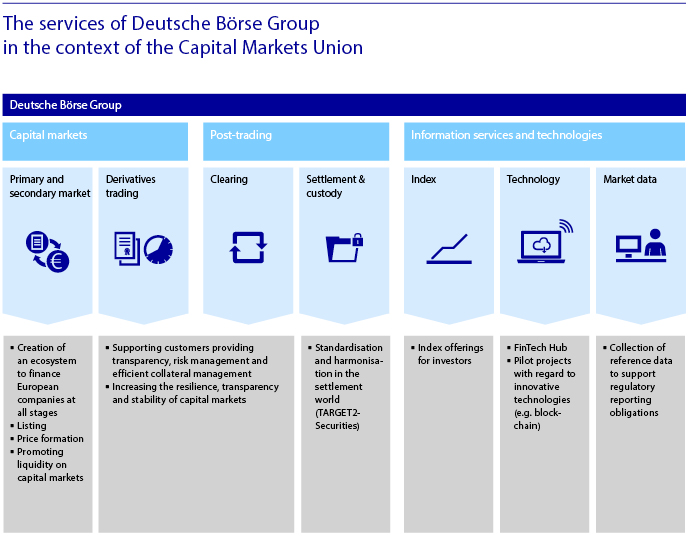 Headquartered in Frankfurt/Main, Deutsche Börse Group is one of the largest exchange organisations worldwide. It operates markets that provide integrity, transparency and security for investors wishing to invest capital and for issuers wishing to raise capital. On these markets, institutional traders buy and sell shares, derivatives and other financial instruments in accordance with clear rules and under strict supervision.
Deutsche Börse Group is now more than just a trading venue or exchange – it is a provider of financial market infrastructure. Its products and services span the entire finance value chain – its business areas range from pre-IPO services and the admission of securities, through trading, clearing, settlement and custody of securities and other financial instruments to collateral management. It also offers IT services, indices and market data worldwide.
Additional Information