Service Navigation
Out of the niche: Providing a platform for trends
Out of the niche: Providing a platform for trends
Roadmap 2020 insights
Deutsche Börse Group is well on track with its growth strategy "Roadmap 2020". We now want to take the opportunity to look back at our growth agenda and successes of the past 18 months: in our series "Roadmap 2020 insights" we showcase exciting contributions and developments from our business areas.
Sustainable investing is high on the agenda. Deutsche Börse is creating a suitable opportunity on its platforms – for example in trading ESG ETFs and Green Bonds. 
The development is dynamic: the volume of sustainable investments in Germany grew to a total of €219.1 billion at the end of last year. According to the "Forum Nachhaltiger Geldanlagen" (forum sustainable investments), this is an increase of more than 400 percent in the last five years. For a large part of investments, key criteria no longer consist solely of factors such as profitability, liquidity and security, but also of environmental, social and corporate governance (ESG) indicators.
Deutsche Börse plays an important role in sustainable investment because it offers the platform to trade sustainable financial products in a transparent and liquid manner, thereby ensuring a broad investor base. "A key task for us as a market operator is to identify trends and develop an attractive offering for issuers and investors, including sustainable investments," says Martin Reck, Managing Director Cash Market Development at Deutsche Börse.
Rapid increase in sustainable ETFs
With Xetra, Deutsche Börse operates the leading trading platform for ETFs in Europe. At the end of the first half of 2019, a total of 1,456 ETFs were listed, 117 of them with a focus on ESG. With 99 products, the focus is clearly on equity ETFs, while 18 other ETFs reflect the development of underlying bonds. At the end of 2015 there were less than a dozen products in this segment. 
With assets under custody of €12.7 billion at the end of June 2019, these products accounted for only 2 percent of Deutsche Börse's ETF segment, but there is an upward trend: at the end of 2015 the figure was less than €1 billion.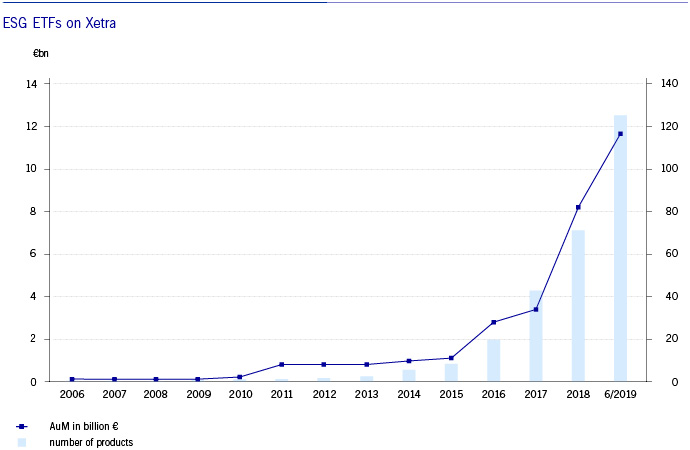 Development of assets under management in ESG ETFs on Xetra
But investors cannot only invest sustainably through ETFs, green bonds have also developed into a heavily growing market. "Last October, the Frankfurt Stock Exchange therefore introduced its own segment in order to clearly bundle them for investors," says Reck.
Green bonds with their own segment
Investors who value both economic and ecological aspects will find more than 160 green bonds on the Frankfurt Stock Exchange. Bond issuers include German Kreditanstalt für Wiederaufbau (KfW) or the European Investment Bank. The Green Bond Principles of the International Capital Markets Association form the basis for inclusion in this segment. They take into account, amongst other things, the use of issue proceeds, the project selection process, the management and ongoing reporting of a particular bond.
Green bonds are classic bonds with maturities, coupons, opportunities and risks. The only difference is how the issuer invests the raised capital. Issue proceeds are used to finance or refinance environmental projects such as renewable energy, sustainable waste management, energy efficiency or clean mobility solutions. The largest volumes of green bonds today are generated in the US, China and France.


Trust is essential for functioning markets and sustainable economies. At Deutsche Börse, we provide fair and transparent, reliable and stable infrastructures that ensure safe and efficient markets around the globe. By making markets work, we foster growth and contribute to the prosperity of future generations. In short: our purpose is to create trust in the markets of today and tomorrow.
Additional Information