Service Navigation
M7 – we shape energy markets
M7 – we shape energy markets
Roadmap 2020 insights
Deutsche Börse Group is well on track with its growth strategy "Roadmap 2020". We now want to take the opportunity to look back at our growth agenda and successes of the past months: in our series "Roadmap 2020 insights" we showcase exciting contributions and developments from our business areas.
Even though new technologies play an increasingly important role for Deutsche Börse Group, IT has always been key to our business: the 7 Market Technology® series supports our integrated business model and underscores its strategic IT objective to build and operate premium and innovative infrastructure. In this article we present last year's successes of the M7® product family – our trading technology for energy and commodity markets. 
Power is a commodity. Exchange-based electricity markets are operated by EEX group, the commodities arm of Deutsche Börse. We differenciate between short-term trading in power on the spot market and long-term trading on the power derivatives market. As part of EEX group, EPEX SPOT with its registered office in Paris operates the short-term spot markets on which the power traded is delivered within two days. On the derivatives market of European Energy Exchange (EEX), participants can hedge in the preceding year for up to 6 years against the risk of price changes. 
Power markets are special as power is subject to technical and physical limitations: power cannot be stored indefinitely – so once it is produced it needs to be consumed. Therefore, when purchasing or selling power the actual power production and the capacity to transport it to the consumer through the power grid needs to be considered.
There are two different physical markets for power trading: 
Day-ahead market with the delivery of the traded power on the following day
Intraday market with the delivery of the power on the same day
Deutsche Börse AG offers solutions for the physical market specialised in intraday – so power trading ensures the delivery on the same day up to 5 minutes before delivery. For this purpose, our solutions are M7 Trading and M7 XBID.
With the M7 trading platform Deutsche Börse offers a high-quality 24/7 service for European power exchanges. M7 is currently used by five European exchanges to run their intraday power trading. With M7 trading 80 per cent of the European market in intraday trading is covered. In the first half of 2019, Deutsche Börse extended its customer based towards Eastern Europe. With M7 Trading Deutsche Börse AG offers high delivery quality and efficient, stable and secure operations for all its power trading customers.
The M7 XBID system is a 24/7 energy trading and capacity management application designed to enable cross-border intraday trading. It was designed based upon an initiative by the European Commission who had envisaged a common European market for energy and therefore decided that compartmentalised national markets should be opened to "cross-border" competition across Europe.
The foundation for XBID was laid. End of 2013, Deutsche Börse AG won the mandate to conceive and deliver a pan-European intraday power market trading system for XBID. The Master Service Agreement was negotiated among all parties and signed on 9 June 2015. The solution was launched in June 2018. 
The M7 XBID solution supports the vision of an integrated European power market where the real-time flows of electricity across EU are optimised according to demand, supply prices and the available cross-border transport capacity accordingly. Since its go- live over 16 million trades have been completed.
XBID - 1st wave countries: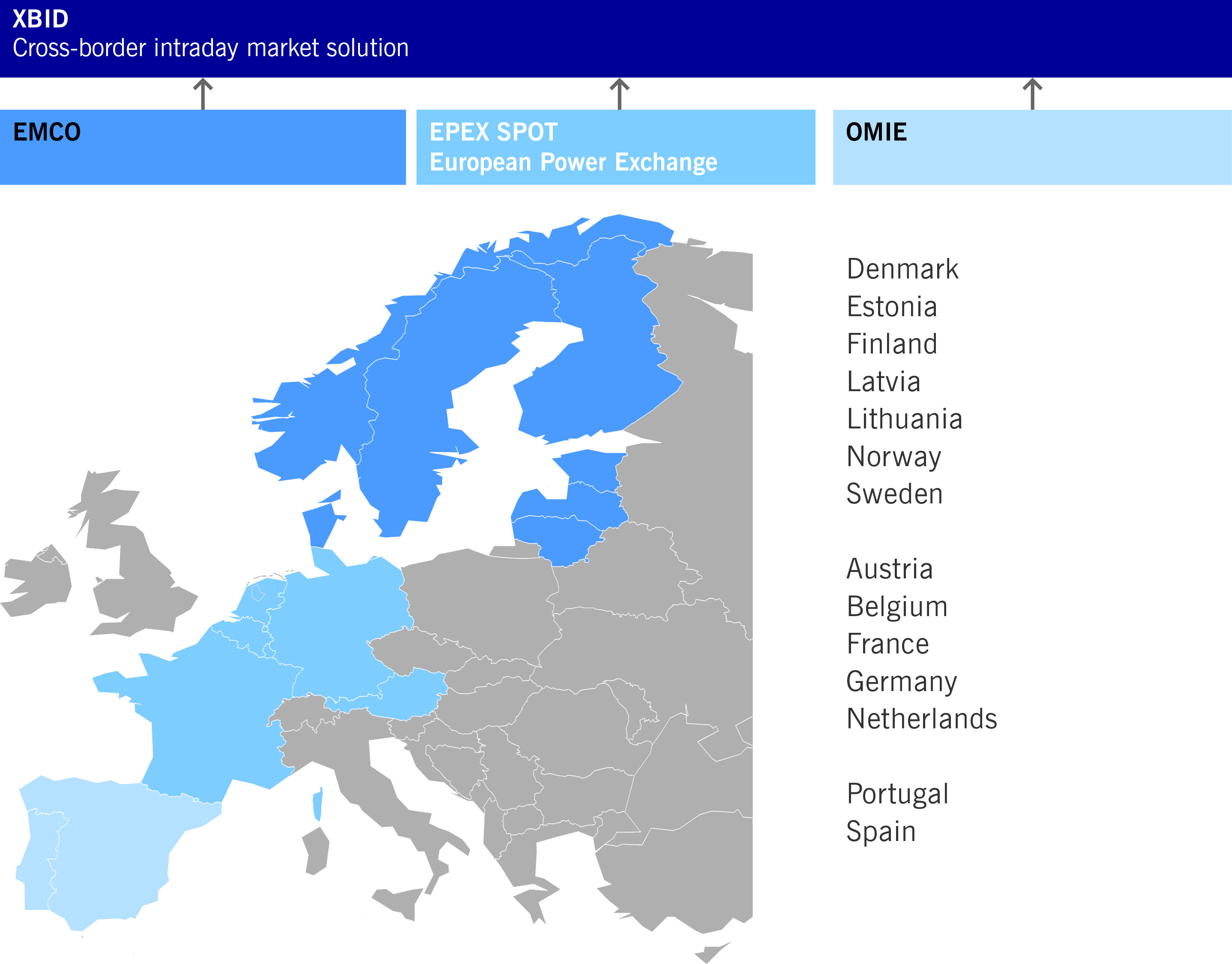 In the second half of 2019, Deutsche Börse AG will facilitate the so-called "XBID 2nd wave" as the leading technology provider.
XBID - 2nd wave countries: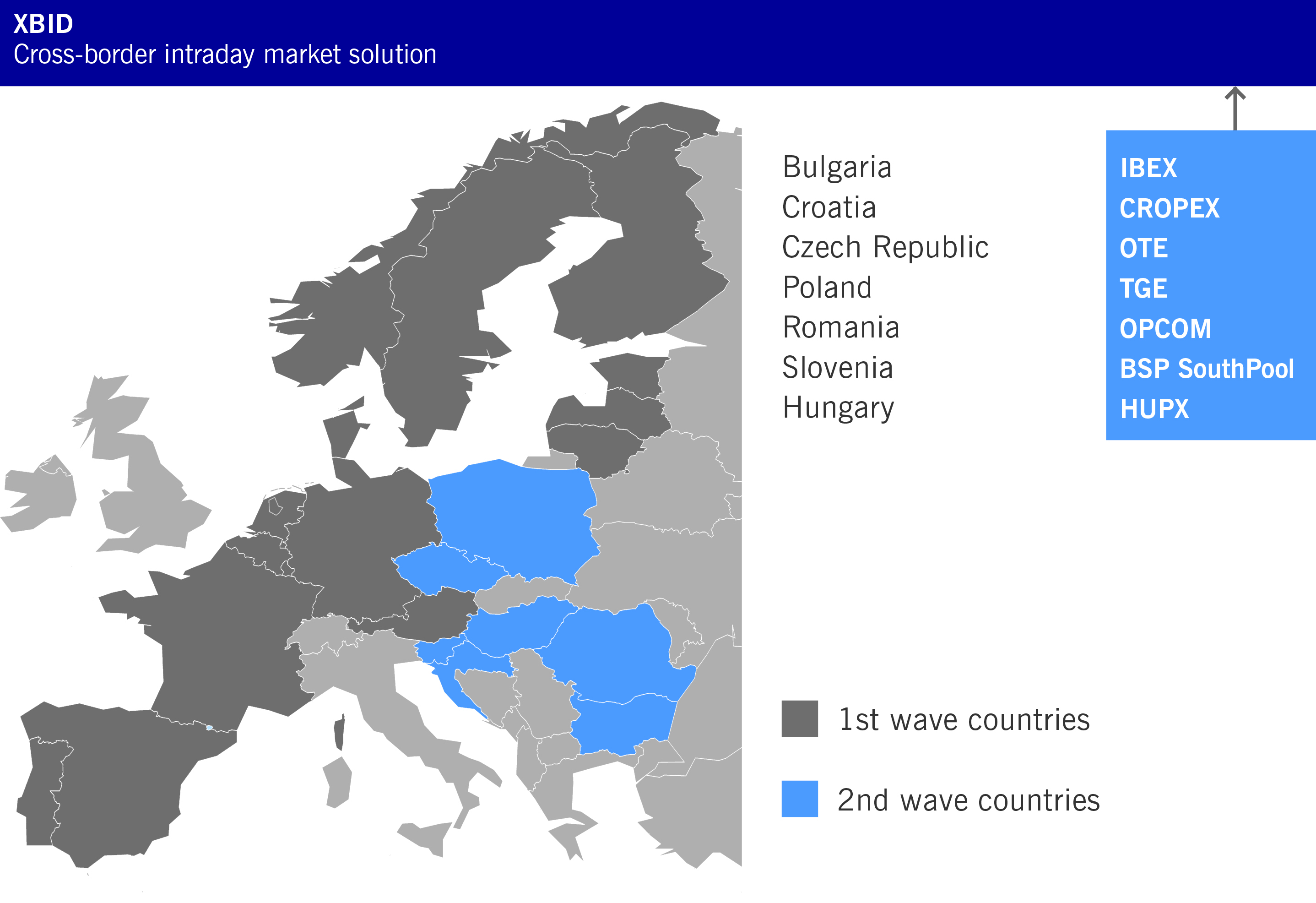 Trust is essential for functioning markets and sustainable economies. At Deutsche Börse, we provide fair and transparent, reliable and stable infrastructures that ensure safe and efficient markets around the globe. By making markets work, we foster growth and contribute to the prosperity of future generations. In short: our purpose is to create trust in the markets of today and tomorrow.
Additional Information